by Kim Warne
Leveraging RFID for "Pick to the Last Unit" Omni-Channel Fulfillment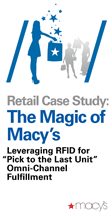 Download as PDF As a multi-faceted retailer with a smart combination of stores, online presence, technology, and business capabilities, Macy's is committed to helping its customers shop anywhere, anytime, and anyhow they choose. Macy's delivers fashion and affordable luxury to customers at nearly 800 locations in the U.S., and more than 100 international destinations through its leading online store at macys.com.
The iconic retailer realized that brick-and-mortar stores could be their greatest asset for single unit orders, essentially functioning as robust and flexible "warehouses" to utilize the full assortment of owned inventory. Once again demonstrating the Magic of Macy's, the retailer created a unique program based on the concept of "Pick to the Last Unit" (P2LU) for omni-channel fulfillment. P2LU attempts to ensure that the last unit of an item in any store is able to be easily located and made available for sale.
With Tyco's TrueVUE RFID Inventory Visibility platform, Macy's is accessing its full inventory assortment and establishing enterprise-wide inventory accuracy in key product categories to fulfill customer demand. Having this level of inventory accuracy and visibility helps Macy's drive increased sales to provide a better customer experience.
Download the full case study here, or read the full press release on Macy's P2LU program.
Posted on October 28th, 2016 in Loss Prevention